What does my Excel Spreadsheet icon have an exclamation point?
December 10th, 2012 by Dustin

With the introduction of Office 2007, Macro enabled worksheets saved as .XLSM files show the exclamation point as part of the icon. This is not to show that it is an error or that it is dangerous, only to inform you that it contains macros. "Feature" or not well thought out placement of punctuation? It's completely normal, and everything is fine as long as you trust the document and/or created the document and macros yourself.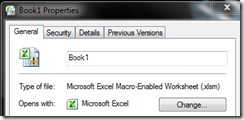 Dustin is the Head Editor of MSTechPages and has been awarded the 2011 Microsoft Community Contributor award. He is in the process of finishing up a book about Windows 7 Tips and Tweaks. Also, a free ebook for Windows 8 keyboard shortcuts is available on this site, with more printable "cheat sheets" coming soon. You can also find him in the Microsoft Community forums (also as a Community Moderator), Tech Support Guy forums, HardForum, and The Windows Club forums, among several others.
Dustin