For many, the Metro interface is a problem and would like to have the desktop similar to Windows 7 and other previous versions. Here is a registry edit to disable Metro UI.
1. Open regedit by typing regedit at the Start screen.
2. Navigate to HKEY_CURRENT_USER\Software\Microsoft\Windows\CurrentVersion\Explorer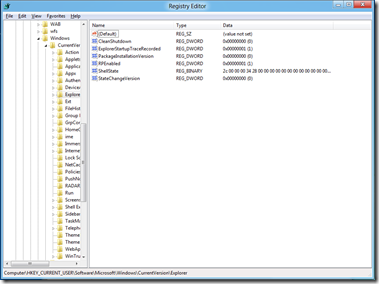 3. Modify the RPEnabled key to a "0" instead of the default "1".
4. To return to the Metro UI, just change the value back to a "1".
Dustin is the Head Editor of MSTechPages and has been awarded the 2011 Microsoft Community Contributor award. He is in the process of finishing up a book about Windows 7 Tips and Tweaks. Also, a free ebook for Windows 8 keyboard shortcuts is available on this site, with more printable "cheat sheets" coming soon. You can also find him in the Microsoft Community forums (also as a Community Moderator), Tech Support Guy forums, HardForum, and The Windows Club forums, among several others.
Dustin