Posts Tagged 'Internet Explorer 9'
November 1st, 2010 by Dustin
The browser wars continue, with all major browsers pushing for full compatibility with HTML5, which is amazing. Surprisingly, Internet Explorer 9 is in the top spot as far as compatibility goes. Remember, though, that HTML5 still isn't an approved standard and is still in development. But, from initial tests HTML5 can do some amazing things!
Yes, the HTML5 spec has yet to finalized. And yes, these tests cover only a portion of the spec. But we can still marvel at just how much Microsoft's browser philosophy has changed in recent months.

The W3C tests — available here — put IE9 beta release 6 at the top of the HTML5 conformance table, followed by Google Chrome 7, the Firefox 4 beta 6, Opera 10.6, and Safari 5.0. The tests cover seven aspects of the spec: "attributes", "audio", "video", "canvas", "getElementsByClassName", "foreigncontent," and "xhtml5″:
October 19th, 2010 by Dustin
By default, Internet Explorer 9 shows 2 rows, or 10 most used web pages on it's about:Tabs page or when opening a new tab for browsing. For some, that just isn't enough. If you're like me, you visit a lot of the same sites daily. By increasing the number of rows to say 5, you can go from 10 pages to 25 (5 per row). Here's how.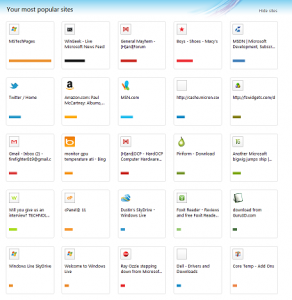 Method One: Manually edit using regedit.
1. Click Start, type regedit. The Registry Editor will open.
2. Navigate to HKEY_CURRENT_USER > Software > Microsoft > Internet Explorer > TabbedBrowsing > NewTabPage.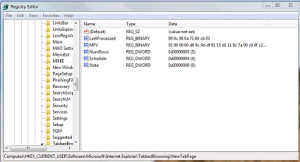 3. Right click the NumRows key, and click Modify. You can change this to how many rows you would like to have on the about:Tabs page. I used 5 here to fill my screen.
Method 2: Download and Merge Registry File
1. Download the following file. Double click it, and select Yes to merge the contents with your registry.{filelink=1}