On a day with pranks and jokes, I received the email saying "Congratulations! We are pleased to present you with the 2014 Microsoft® MVP Award!". It wasn't a joke or a prank. I have earned the Microsoft MVP Award for Windows Expert: Consumer. Exciting to say the least. 🙂 My MVP profile is now live. I am proud and honored to receive this award, and will continue to offer my time and knowledge to the Microsoft community.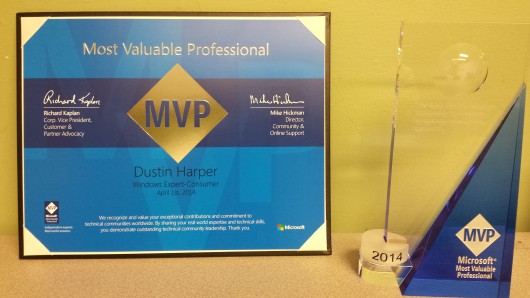 For more information on the Microsoft MVP progam, you can visit the MVP site.
The Microsoft Most Valuable Professional (MVP) Award is our way of saying thank you to exceptional, independent community leaders who share their passion, technical expertise, and real-world knowledge of Microsoft products with others. It is part of Microsoft's commitment to supporting and enriching technical communities. Even before the rises of the Internet and social media, people have come together to willingly offer their ideas and best practices in technical communities.

At Microsoft, we recognize the vital role these individuals play in the adoption and advancement of technology—and in helping our customers do great things with our products. This was the inspiration for the Microsoft MVP Award. Nearly two decades ago, we awarded 37 technical community leaders as MVPs.

Today, there are more than 4,000 MVPs worldwide. They represent more than 90 countries, speak over 40 languages, answer more than 10 million questions a year, and are awarded in almost 90 Microsoft technologies—reflecting the breadth of our products and our global communities.