The latest build of Windows 10 19H1 for the fast ring has been released, build 18305. A lot of new features, some fixes, and more known issues that might be a show stopper. Grab it while it's hot!
Check out the new simplified Start Menu: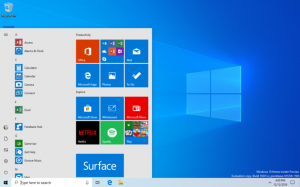 Known issues
The hyperlink colors need to be refined in Dark Mode in Sticky Notes if the Insights are enabled.

The Windows Security app may show an unknown status for the Virus & threat protection area, or not refresh properly. This may occur after upgrade, restart, or settings changes.

The cmimanageworker.exe process may hang, causing system slowness or higher than normal CPU usage. This can be bypassed by rebooting the machine if it occurs.

Launching games that use BattlEye anti-cheat will trigger a bug check (green screen) – we're investigating.

USB printers may appear twice in the Devices and Printers under Control Panel. Reinstalling the printer will resolve the issue.

We're investigating an issue where clicking your account in Cortana Permissions isn't bringing up the UI to sign out from Cortana (if you were already signed in) for some users in this build.

If you're using Hyper-V and have added an external vSwitch in addition to the default, many UWP apps won't be able to connect to the internet. Removing the additional vSwitch will resolve this.

The Task Scheduler UI may appear blank even though there are scheduled tasks. For now, you'll need to use the command line if you want to see them.

Creative X-Fi sound cards are not functioning properly. We are partnering with Creative to resolve this issue.

When attempting to update to build 18305 some S Mode devices will download and restart, but fail the update.